If I Have a Body
If I have a body presents new and recent work by six Canadian artists: Shuvinai Ashoona, Steven Beckly, Billy-Ray Belcourt, Laurie Kang, Veronika Pausova and Dominique Rey. The title, drawn from a poem by Belcourt, considers the body as a proposition, an unstable form shaped by imagination, desire, vulnerability and exchange. The artists are brought together in dynamic pairings, creating dialogue between their works.
Event/Exhibition meta autogenerated block.
When
May 31, 2019 – September 2, 2019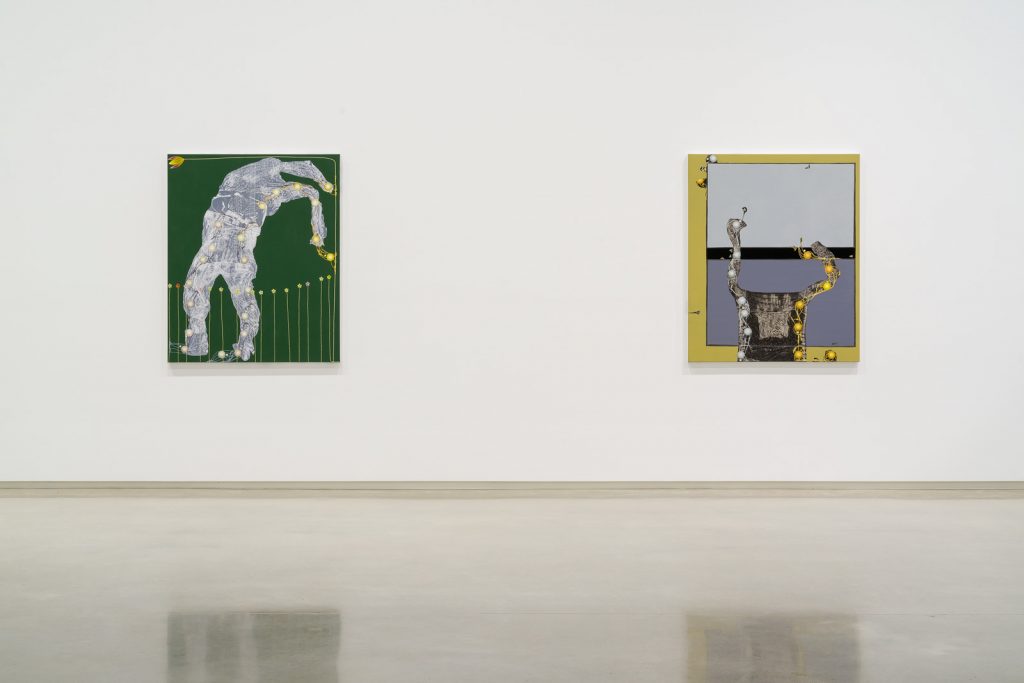 In her sculptures and installations, Laurie Kang combines industrial metal objects with soft, responsive materials such as silicone, clay and photo-sensitive paper. Her work speaks to metabolism and the transfer of energy, calling up forms that may be human, animal or alien. Veronika Pausova's paintings show the figure and its traces as surreal impressions, isolating sensations such as touch, heat, attraction and tension.

Shuvinai Ashoona's colourful drawings assert her highly personal vision, filtered through a Northern experience of globalization, where her inner and outer worlds coalesce in complex, troubling and exhilarating compositions. In her lens-based practice, Dominique Rey utilizes modes of performance, accumulation and collage to explore duality and estrangement in the construction of self.
Steven Beckly's photographic work disrupts the still image to create evocative forms. Curving, draped and slumping, his intimately scaled work reveals the sensuality of the everyday. Billy-Ray Belcourt's poems are an invitation to feel. Moving between frank observation and philosophical musings, his work addresses colonial violence and grief, while holding desire and joy as conditions for possibility.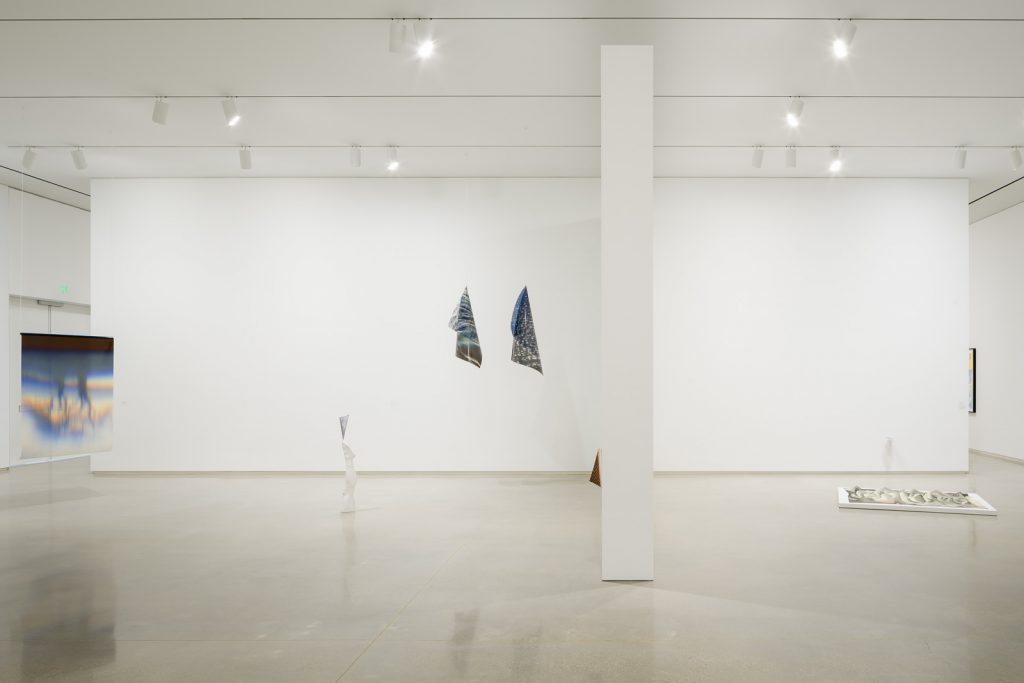 The artists in this exhibition share an interest in body as a vehicle for synthesis and transformation. Rather than a singular, stable entity, the body is unresolved and contingent, a fragmented collection of feelings, expectations, and circumstances.
---
Curatorial Team
Organized by Rose Bouthillier, Curator (Exhibitions); Sandra Fraser, Curator (Collections); and Troy Gronsdahl, Associate Curator (Live Programs)
---
Artists
Laurie Kang is an artist living in Toronto. She holds an MFA from the Milton Avery School of the Arts at Bard College. Her work has been exhibited at Interstate Projects and Topless, New York; The Power Plant Contemporary Art Gallery, Cooper Cole, 8-11, The Loon, Gallery TPW, Franz Kaka, and Carl Louie, Toronto; Galerie Antoine Ertaskiran and L'inconnue, Montreal; Raster Gallery, Warsaw; Wroclaw Contemporary Museum, Poland; and Camera Austria, Graz. She has been artist-in-residence at Rupert, Vilnius; Tag Team, Bergen; The Banff Centre for Arts & Creativity, Alberta; and Interstate Projects, Brooklyn.
Veronika Pausova was born in Prague, Czech Republic and lives and works in Toronto, Canada. She received her BFA from Glasgow School of Art, and her MFA from Virginia Commonwealth University. Recent solo and two person exhibitions include Directional Desires at Simone Subal, New York, Busy Bodies at Parisian Laundry, Montreal; Drawing the Curtain at Hunt Kastner, Prague, Czech Republic; Age me a Heavy Twig at Franz Kaka, Toronto; and Forest House at Tatjana Pieters, Ghent, Belgium. Recent group exhibitions include An Assembly of Shapes at Oakville Galleries, ON; Line and Verse at Andrehn Schiptjenko, Stockholm, Sweden; and You are Here at Peana Projects, Monterrey, Mexico.
Celebrated for her large-scale drawings, enigmatic subject matter, and collaborative work with contemporary artists, Shuvinai Ashoona is a third-generation Inuit artist living in Kinngait, Nunavut. Her constantly evolving work is included in national and international biennales, exhibitions and collections. She is a recent recipient of the Gershon Iskowitz Prize, member of the Royal Canadian Academy of Arts, and is currently the subject of a major touring exhibition, organized by The Power Plant (Toronto).
Dominique Rey is a multidisciplinary artist based in Winnipeg. Rey's work has been exhibited across Canada, the United States, and Europe, including MOCCA (Toronto), MacLaren Art Centre (Barrie), Plug In ICA (Winnipeg), Gallery TPW (Toronto), Southern Alberta Art Gallery (Lethbridge), Centre Clark (Montreal), Tabacka Art Center (Kosice, Slovakia), Galleri Box (Goteborg, Sweden), and Art Center/South Florida (Miami Beach). Her art appears in numerous collections, including the National Gallery of Canada, Winnipeg Art Gallery, Province of Manitoba, and Scotiabank. She holds a MFA in Photography from Bard College (NY) and a MFA in New Media from the Transart Institute (Berlin). Dominique Rey was awarded the Canada Council for the Arts International Artist Residency in 2016 at La Cité Internationale des Arts in Paris.
Steven Beckly is a Chinese artist and photographer based in Toronto. He creates images that take on various forms, including photographs, books, sculptures and installations, to better understand the ever-changing nature of love, desire and intimacy. Recent solo exhibitions include Love S.O.S. at Centre3 (Hamilton) and Meirenyu at Daniel Faria Gallery (Toronto). Beckly's work is currently included in A History of Photography at the Museum of Fine of Arts, Houston (Houston), a special focus honouring the 50th anniversary of the Stonewall Riots and the birth of the LGBTQ+ civil rights movement in the United States. Beckly holds an MFA from the University of Guelph and a BSc in Psychology from the University of Toronto. He is represented by Daniel Faria Gallery in Toronto.
Billy-Ray Belcourt is an award-winning writer and academic from the Driftpile Cree Nation. His debut book of poems, This Wound is a World received a number of awards and accolades: he was a finalist for the Governor General's Literary Award for Poetry and is the youngest recipient of the Griffin Poetry Prize awarded in 2018. In the First Nations Youth category, Belcourt was awarded a 2019 Indspire Award, which is the highest honor the Indigenous community bestows on its own leaders. Belcourt is also a 2016 Rhodes Scholar and a Ph.D. candidate at the University of Alberta; his doctoral project is a creative-theoretical one called "The Conspiracy of NDN Joy." In 2020, he will join the University of British Columbia as Assistant Professor of Indigenous Creative Writing.