Hours
| | |
| --- | --- |
| Monday | Closed |
| Tuesday | Closed |
| Wednesday | 10 AM – 5 PM |
| Thursday | 10 AM – 9 PM |
| Friday | 10 AM – 9 PM |
| Saturday | 10 AM – 5 PM |
| Sunday | 10 AM – 5 PM |
Admission
Thanks to the generous support of the Frank and Ellen Remai Foundation, admission to Remai Modern will now be by donation on all open days (free for youth under 18).
Getting Here
Remai Modern is easily accessible from cycling and walking trails and is ideally located downtown in scenic River Landing close to attractions, shops and much more.
Persephone Theatre, Midtown Plaza, TCU Place, and the Riversdale and Broadway communities are all within a 15-minute walk or less.
Remai Modern is serviced by City of Saskatoon bus routes 1, 6, 7, 8 and 9. The Downtown Saskatoon transit terminal is a 15-minute walk to the museum. Fare information can be found here and public transportation routes can be accessed through Google Transit.
Access Transit provides on-demand services for individuals who cannot take fixed route transit some or all of the time due to physical or cognitive disabilities. Visit their website or call: Saskatoon Transit customer service at 306-975-3100 or the customer care line at 306-975-3555.
Parking
The River Landing Parkade located underneath Remai Modern offers underground heated parking and free public bicycle parking. The parkade entrance is on Saunders Place, off of 2nd Avenue. The Parkade is open seven days a week, 7 AM–midnight, including on statutory holidays. Pay stations in the Parkade accept coins and credit cards. You can also pay via the Honk Mobile phone app. Please contact Precise Parklink's website or call 306-955-9912 for more information.
Remai Modern strives to offer a welcoming and accessible experience for everyone. The building has been specially designed to be inclusive and easily navigable.
Accessibility features include:
All levels of the building are accessible for visitors with disabilities.
Each level features bathrooms that are accessible for visitors with disabilities.
All doorways are wide enough to accommodate wheelchairs.
Front entrance and gallery doors feature push button entry.
All public spaces are identified with braille signage.
Museum elevators are equipped with audible floor indicators.
Public tours and weekend artmaking activities are available with ASL interpretation upon request.
Wheelchair access is available from the heated attached parkade.
For more information or if you have an idea for a tour or event that requires special accessibility considerations, we would love to hear from you!
For more information on accessibility, feel free to ask any of our guest experience staff members or contact us at info@remaimodern.org
Remai Modern offers a wide variety of programs and events. See what's happening this month at the museum!
Explore events by category
Download a printable program of everything happening at Remai Modern this month – What's On At Remai Modern
Welcome to Remai Modern! We're happy to have you here. Please follow the guidelines below to ensure everyone has a great experience.
Please don't touch the artwork. Maintain a safe distance from artwork at all times.

No food or drink is allowed in the galleries, including water bottles.

Unless indicated, permission to take photos for personal use is permitted. Photography should not disrupt the visitor experience and flashes, tripods, and props may not be used.

Bags larger than 11″ x 16″ must be checked. Bags cannot be carried on your back and child rear-worn child carriers are not permitted. Free storage lockers are available on Level 1 for visitor convenience.

We love your photos of Remai Modern! Tag @remaimodern and credit the artist(s).
Remai Modern welcomes the whole family to explore, engage, and discover their love for art.
Something on Sundays
Attend a free artmaking activity every Sunday between 1 and 4 PM! No registration required!
Stroller Tours
Looking for a change of scenery and safe space to explore with your little one? This museum tour offers a casual discussion with a museum educator where no one minds if a baby interrupts!
RBC Creative Space
Calling all creatives! RBC Creative Space happens on Saturdays from 10 AM-5 PM and features seasonal art-making activities based on current exhibitions.
Guidelines
We love introducing kids to the Remai Modern, and see it as a great opportunity to learn and practice new social skills.

Below are some helpful tips to use when talking to your kids about what they can expect when visiting the museum. These guidelines help to ensure that the museum remains a welcoming place for everyone.
Use your indoor voice
We encourage discussion about the art, however it's important to keep the volume of your voice low when speaking to each other. Loud noises and overlapping chatter can make it difficult for others to enjoy the space.
Stick together
It's important for family members to stay close together. Behave politely by not running around or wandering off. This helps to ensure the experience is safe and enjoyable for everyone.
Be aware of your surroundings
Always be aware of what's going on around you. Don't stand in a way that block's someone else's view. Instead, stand off to the side, so that others can enjoy the artwork too.
Look with your eyes
In a museum or gallery, it's important to look with your eyes, never your hands. Be respectful of the art and be very careful not to touch anything.
Educators
Introducing your students to art is a great way to inspire, evoke curiosity, and encourage deeper conversations about the world around us.
The Remai Modern offers resources and activities specially designed for educators and students to help kickstart a lifelong appreciation and love of art.
A delicious new dining experience is coming soon!
In early 2023, Remai Modern will welcome local favourite Hearth as its new restaurant partner.
Hearth is a celebration of Saskatchewan, not only in their food but in their incredible hospitality. We are proud to join forces with this great Saskatoon team and to give visitors an experience — from art to food to events — you can't find anywhere else.
In the meantime, Hearth is catering third-party events at the museum, from weddings to corporate get-togethers. Visit our Host An Event page to learn more.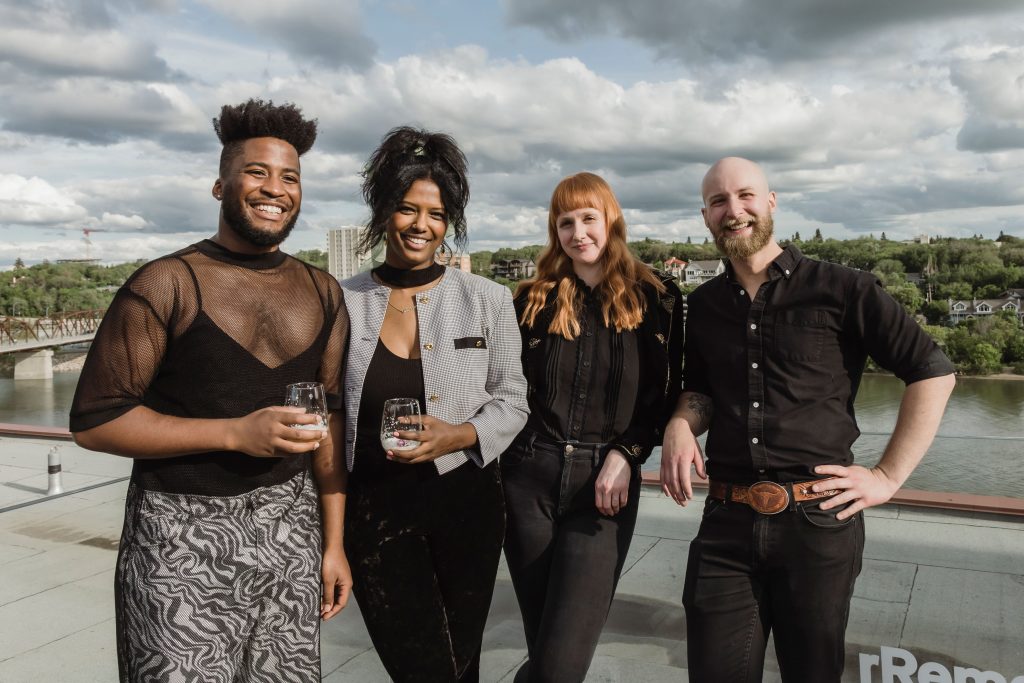 Host an Event
Host your event at Remai Modern for stunning views, incredible food, and so much more. Whether you're hosting a meeting for eight or a reception for hundreds, this location makes for a stylish and unique venue.
Remai Modern is Saskatoon's go-to venue for weddings, conferences, corporate events, holiday parties and all of your special occasions. Add on artful options including tours, artmaking, and other activities to make the most of this one-of-a-kind location.
Art & Design Store
The Art & Design Store at Remai Modern offers a design-oriented, art-focused shopping experience with something for everyone.
We showcase unique goods from local, national, and international craftspeople.
Feel good about shopping! Every purchase you make at the Art & Design Store supports arts programming for everyone!
General Information
Art & Exhibitions
Events
Membership